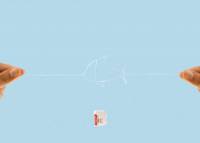 Did you know that simple flossing, when done daily, can save you money? It's true; flossing at least once a day not only removes food lodged between your teeth, but also protects your teeth and gums from damage and future dental costs. Just ask any dentist from California, to Maine to your local Santa Fe dentist, flossing can save your smile and your wallet.
When eating, food can get trapped between teeth. Flossing after you brush removes that stuck food. Floss performs the vital role of making sure teeth and gums are fully clean. If teeth are not properly cleaned, plaque will form and build up causing damage to teeth and gums which, over time, can lead to gingivitis, periodontal disease, tooth decay and eventual tooth loss.
The average dental insurance will cover between $1,000-$2,000 worth of dental work per year with varying deductibles. Dentists nationwide, including Dental Services Santa Fe, can fix the damage caused from improper oral hygiene, but it will be pricey as improper dental care can affect more than one tooth.
Tooth decay is expensive, with the avearge cost of amalgamated fillings at $50-$150 per tooth and porcelain crowns running from $500-$1,500. Even more expensive is tooth loss with the average price range for dental implants at $1,000 and up per tooth. Total tooth loss can bring in a cost of $600-$1000 for a complete set of dentures. The cost of gum disease and gum loss adds up, costing about $600-$1,200 for a single area gum graft. Factor in the varying cost of exams and multiple office visits and the total cost of improper oral hygiene and lack of flossing becomes extreme.
Though flossing is an easy help to protect against future dental problems, many people don't take the time to do it, counting on their current healthy teeth to last a lifetime. Although a mouth may be healthy now, if not cleaned, plaque will continue to build up and over time will wear away that tooth and gum status causing extensive damage.
The war on plaque is life-long and must be fought daily. Take the time at least once a day to floss and really clean your teeth. Your future smile, and bank account, will thank you.
#SantaFeDentist #DentistSantaFe #LoveMyDentist